About Us
The Cache Toffee
Cache Toffee Collection began in my Park City, Utah kitchen 7,000 feet above sea level. I started with the treasured toffee making techniques my mother taught me, adjusted for altitude, and one thing just led to another. But once I started, I couldn't stop, because people kept asking for more! When I found out that some of them had gone so far as to pretend their supply of toffee was "Oops! All gone…" just so they could keep their treasured Cache to themselves, I decided to go a little bigger. I moved into a commercial kitchen and made it official.
The Cache Toffee Collection is still local and handcrafted and now it's available nationally and online with eleven varieties and more scrumptious flavors on the way. Now there's a toffee for every sweet (and savory) tooth, every season, and every occasion. So go ahead–treat yourself!
–Lori Darr, Founder
Our team is like a family – if a family was made up of nothing but sweet, toffee-loving candy makers. And we do everything by hand, every single day.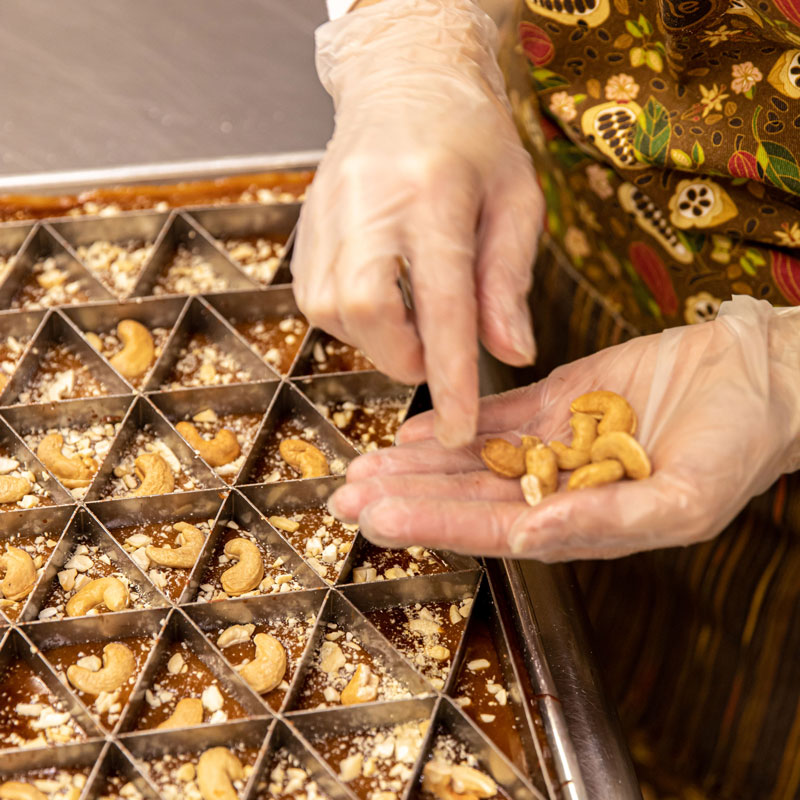 Creating Small Batch Excellence
We are committed to creating our purely irresistible handcrafted toffees with unique flavor combinations.
We make our toffee with the highest quality ingredients, sourcing locally whenever possible.
Our toffee is made fresh, preservative free, and without high fructose corn syrup.
If you haven't tried Cache Toffee, made with local Solstice Chocolate, get some! It's the best.
Cache Toffee is irresistible once you take a bite you are hooked on this handmade deliciousness. Cache Toffee has several different kinds and each is delectable! You can find Cache Toffee at Gainan's and City Vineyard in downtown Billings MT. Don't forget to buy your own Cache Toffee when buying for others as you will want your own stash!"
Your Blondie toffee should be added to the food pyramid as a required category just to put a smile on faces every day. Great meeting you both tonight and wishing you all the best!